Dealer Resources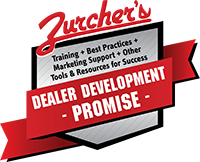 Dealer Development Promise
Our goal is and always has been to make you – our customer – successful, which is why we've developed our Dealer Development Promise. We are committed to providing our dealers with training opportunities, best practices, marketing support, and other tools & resources to aid in your success.
View a list of Consumer Rebates - including downloadable rebate claim forms.
Learn about Dealer Programs.
We are thankful for all our customers in Monroe, IN, Fort Wayne, IN, Bluffton, IN, and surrounding areas. We hope you find these resources helpful and use them to great advantage.
TPMS
Dealers can now order universal TPMS sensors from Zurcher Tire Inc. We carry six different sensors that fit 80% of vehicles including the majority of domestic and Asian imports. No European coverage at this time. View this chart for details.
Adjustments
Do you have a tire adjustment. Please complete and submit the attached form.
What's New!
Be sure to check back frequently, as we'll be updating this page to inform you of upcoming training and support opportunities.