Zurcher Tire Inc. is a wholesale tire company. Our goal is and always has been to make you – our customer – successful. We value our customers' trust and are committed to building long-term business relationships – which is why we've developed our Dealer Development Promise.
Our History
Three generations of the Zurcher family have been proudly serving our customers since 1948. Founded by Paul Zurcher, Zurcher Tire, Inc. has grown steadily since its beginning as a one-bay service station financed with $300 Paul received from a GI Bill. Our wholesale operation first opened in 1983.
Southern Indiana Tire was founded in 1971 in Princeton, IN by Paul Weaver with the help of the Zurcher family with a distribution footprint in three states.
In 1983, the Zurcher Tire's wholesale operation in Monroe, IN was opened for business and by 2018 services customers across three different states.
Roger Cornelius founded Statewide Tire Distributors in 1987 with a pickup truck full of tires and some assistance from the Paul Weaver and the Zurcher family and by 2018 had grown into five distribution centers servicing seven states.
Advantage One Tire Network was originally a wholesale division of Indy Tire, but broke away as a separate entity in 2013 with the help of the Zurcher family and leadership of Mark Hadley, expanded to Niles Michigan in 2015 and grew substantially by 2018 with a distribution footprint in five states.
In 2019, Zurcher Tire, Southern Indiana Tire, Statewide Tire Distributors and Advantage One Tire Network combined their resources underneath the Zurcher Tire Inc. flag to form a distribution network of nine locations with over 650,000 square feet of warehouse space.
Since then, we have added additional locations through mergers and acquisitions and now have over 1,000,000 square feet of warehouse space servicing customers in over a dozen states. Zurcher's direct manufacturer relationships allow us to provide tires from all over the world to our valued customers in no fewer than eleven states while offering profitability programs, education, marketing, courtesy and consistency.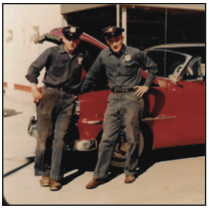 Founder, Paul Zurcher, pictured to the left.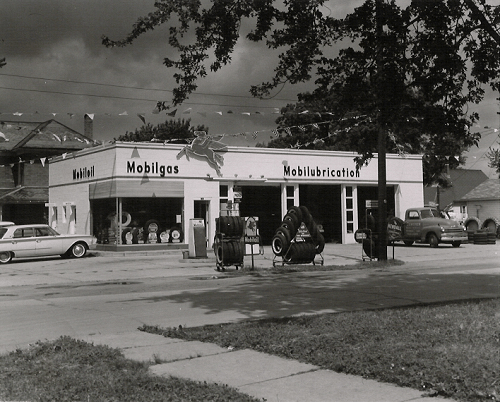 One-bay service station in Monroe, Indiana.
The Next Chapter in Our History
In January of 2019, Zurcher Tire merged with other successful partners of Paul Zurcher's to strengthen their market position. Statewide Tire Distributors, located in Illinois, Missouri, and Iowa, along with Southern Indiana Tire in Princeton, Indiana, joined forces around a common vision of getting the right tire to the right customer at the right time, every time. Coupled with the acquisition of Advantage One Tire Network, the new Zurcher Tire set off to provide excellent service to existing and new customers out of the ten distributions centers across Indiana, Michigan, Illinois, Iowa, and Missouri. Relationships continue to be at the center of what all Zurcher locations do on a daily basis.
No Tire Is Too Big Or Too Small For Us
In addition to offering in-stock consumer, commercial, AG, OTR, lawn and garden, and trailer tires, we also provide:p>
Daily Delivery: We are pleased to offer daily delivery within our service area. Ask us for details/to see if you qualify. Some areas also receive same day service.
Credit Terms: Contact us for details.
Tire Adjustments: We have a dedicated staff member to help with your tire adjustment needs.
Dealer Programs: Learn more about the Dealer Programs and National Account opportunities we offer.
Dealer Resources: Check out our Dealer Development Promise – our commitment to provide our customers with training, best practices, marketing support, and other tools & resources to aid in your success.
Online Ordering: Order your tires online – plus check our inventory, learn more about the tires we stock, view our current specials, and more.